THE MOTIVATION EQUATION: Designing Lessons that Set Kids' Minds on Fire
by Kathleen Cushman with the students of What Kids Can Do, the National Faculty of the Practice Project, and scientists at the NSF Science of Learning Center at UC San Diego
Teachers kept asking for more after our highly praised book Fires in the Mind recruited adolescents to investigate "the paths to passionate pursuit of something worthwhile" (Howard Gardner). Now comes the follow-up: a lively and discerning multi-media e-book that uses the actual work of teachers, the feedback of students, and the commentary of learning scientists to describe how — and why — high motivation and academic mastery develop in the classroom.
Guided by an "actual adolescent brain" named Ned Cephalus and his pithy "Gr8 8" checklist for how youth learn, readers listen in as six case studies of highly effective curriculum and instruction unfold in diverse middle- and high-school settings. Throughout the book, readers use the research-based "Motivation Equation" to analyze what draws students into a learning challenge, helps them persist through difficulties, and brings them to mastery.
iBook INCLUDES: • Audio and video clips of students, teachers, and scientists • Pop-up summaries of key research • Live links to related information • Downloadable worksheets for diagnosis and planning • Chapter-end discussion prompts for teacher book study • A lesson-study collegial protocol focused on motivatio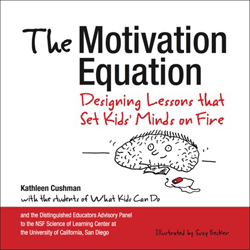 To read in any browser, go to nextgenpress.creatavist.com
Read it on the iPad and iPhone! Download our free Next Generation Press app here
Online Lesson Study to Build Student Motivation
Educators inspired to boost student motivation after reading WKCD's recent book Fires in the Mind now have new support in making that happen. In a self-paced, online "Learning Path on Building Student Motivation," author Kathleen Cushman presents six in-depth mixed-media case studies of highly motivating classroom practice—complete with commentary from learning scientists as well as from the teachers and students involved.
That material forms the core of a collaborative social-learning experience that takes only six to eight hours of "anytime, anywhere" study. Small cohorts of participants hear from Cushman, analyze curriculum and instruction through the lens of the "Motivation Equation," and come to new insights in a discussion forum. Participants keep a portfolio that aligns their work with the Danielson Teacher Effectiveness Rubric.
COURSE OBJECTIVES • Understand the factors that are crucial to motivation • Develop skills for improving student expectations of success • Identify and apply the "building blocks of motivation and mastery" to the teaching and learning environment • Share classroom approaches to maintaining and increasing student motivation.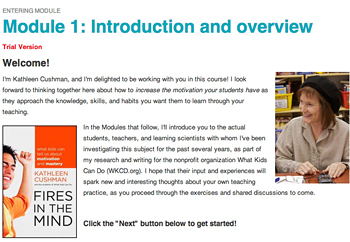 Check out the user-friendly platform and two free introductory modules HERE (after a quick sign-up at www.EduPlanet21.com).